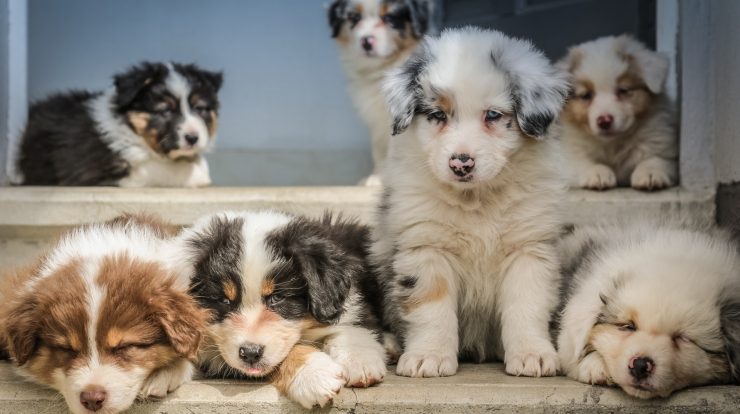 You couldn't choose just one pup, so now you're on the hunt for cute puppy names for two new dogs! Let's face it; they're all so adorable, sometimes, you can't limit yourself to one!
When I was just a baby, we had a couple of pups my dad named Hyacinth and Heloise." Rather than call them by these rather unwieldy names, though, they were known by their nicknames, Hy and Hello.
Everywhere you look, the world is comprised of pairs. Salt and pepper, fish and chips, peanut butter and jelly, ebony and ivory, Beavis and Butthead.
The list of famous couples goes on and on! Enjoy these ideas for cute puppy name pairings.
Abbott & Costello
Abercrombie & Fitch
Adam & Eve
Adonis & Venus
Amos & Andy
Anna & King
Antony & Cleopatra
Aragorn & Arwen
Archie & Jughead
Asterix & Obelix
Babar & Celeste
Babe & Ruth
Bach & Beethoven
Bambi & Thumper
Barney & Fred
Beauty & Beast
Ben & Jerry
Bert & Ernie
Boba & Jango
Bogie & Bacall
Bonnie & Clyde
Butch & Sundance
Caesar & Cleopatra
Cagney & Lacey
Captain & Tennille
Charlie & Snoopy
Cheech & Chong
Chewie & Han
Coke & Pepsi
Cowboy & Indian
Daisy & Duke
Dean & Jerry
Donald & Daisy
Donny & Marie
Dorothy & Toto
Duke & Duchess
Ebony & Ivory
Elvis & Priscilla
Felix & Oscar
Franny & Zooey
Fred & Ethel
Fred & Ginger
Fred & Barney
Garfield & Odie
George & Gracie
Gilligan & Skipper
Goofy & Pluto
Gumby & Pokey
Hansel & Gretal
Harvard & Yale
Hatfield & McCoy
Hawkeye & Bj
Holmes & Watson
Iggy & Pop
Jack & Jill
Jake & Elwood
Jasmine & Aladdin
Jay & Kay
Jesse & James
Jon & Ponch
Kermit & Miss Piggy
King & Queen
Kirk & Spock
Lady & Tramp
Lancelot & Guinevere
Laurel & Hardy
Laverne & Shirley
Lenny & Squiggy
Lewis & Clark
Lucy & Ethel
Lucy & Ricky
Luke & Leia
Mason & Dixon
Merry & Pippin
Mickey & Minnie
Milo & Otis
Mork & Mindy
Mutt & Jeff
Nancy & Sluggo
Napoleon & Dynamite
Napoleon & Josephine
Othello & Desdemona
Orville & Wilbur
Ozzie & Harriet
Penn & Teller
Peter & Wendy
Pongo & Perdita
Porgy & Bess
Posh & Becks
Punch & Judy
Rags & Riches
Rhett & Scarlett
Robin & Marian
Rocky & Bullwinkle
Romeo & Juliet
Rowan & Martin
Salt & Pepper
Scooby & Scrappy
Smokey & Bandit
Sonny & Cher
Starsky & Hutch
Sugar & Spice
Summer & Autumn
Sylvester & Tweety
Tango & Cash
Tarzan & Jane
Thelma & Louise
Tigger & Pooh
TinTin & Snowy
Tom & Jerry
Tonto & Ranger
Tristan & Isolde
Turner & Hooch
Vegas & Reno
Will & Grace
Wilma & Betty
Yogi & Booboo
Zeus & Apollo